This is our family's favorite banana bread recipe. This is taken from the Better Homes and Gardens 11th edition cook book .yummmmm.
1 1/2 cups all-purpose flour,
1 1/2 teaspoons baking powder,
1/4 teaspoon backing soda,
1/4 teaspoon ground cinnamon,
1 egg,
1cup mashed bananas ( 3 medium),
3/4 cup sugar,
1/4 cup cooking oil,
1/2 cup chopped walnuts or pecans( optional),
in a mixing bowl combine the flour , baking powder, backing soda, cinnamon, make a well in the dry mixture and set aside. In another bowl combine the egg, bananas,sugar,cooking oil,. add egg mixture all at once to dry mixture . Stir just until moistened ( batter should be lumpy). Fold in nuts. Spoon batter in to a greased 8x4x2 loaf pan . Bake in a 350* oven 50- 55 minutes or until wooden tooth pick comes clean. Again we often double or triple this recipe for our large family. Don't forget to say your prayers and thank the lord.




CHICKEN FLORENTINE ARTICHOKE BAKE





This was a new recipe we tried it came out of a woman's day magazine .We tried it and while it didn't go over well with the kids in the house the adults loved it I learned a few things with this recipe 1st next time i will add more bread crumbs . Second the grated parmesan cheese can be replaced with a cheaper cheese of your choice if you so chose to cut the cost on this recipe down as I found parmesan cheese to be rather higher than I wish to pay for a meal. INGERDIENCE
8 oz dried bow tie pasta
1 small onion, chopped
1 Tbsp.butter
2 eggs
1 1/4 cups milk
1 tsp. dried Italian seasoning
1/4 to 1/2 crushed red pepper( optional)
2 cups chopped cooked chicken
2 cups shredded Monterey jack cheese ( 8 oz)
1 10 oz pkg. frozen chopped spinach,thawed and well drained
1/2 cup oil-packed dried tomatoes, drained and chopped ( I just used a can of stewed tomato's drained)
1/4 cup grated Parmesan cheese
1/2 cup soft bread crumbs
1/2tsp.paprika
1tbsp. butter melted
1.preheat oven to 350 f. cook pasta according to package directions;drain. in medium skillet cook onion in 1 tablespoon of butter over medium heat for about 5 minutes or until tender stirring occasionally remove from heat; set aside 2.in a bowl whisk together eggs milk seasoning, 1/2 tsp. salt, 1/4 tsp. black pepper and crushed red pepper .stir in chicken, Monterey jack cheese, artichokes, spinach, tomatoes, half of the parmesan,cooked pasta,and onion. transfer to 3-quart rectangular baking dish. 3.bake, covered,20 minutes . in small bowl combine remaining parmesan , bread crumbs, paprika, and melted butter. sprinkle mixture over pasta. bake uncovered, 10 mins more or Intel golden brown.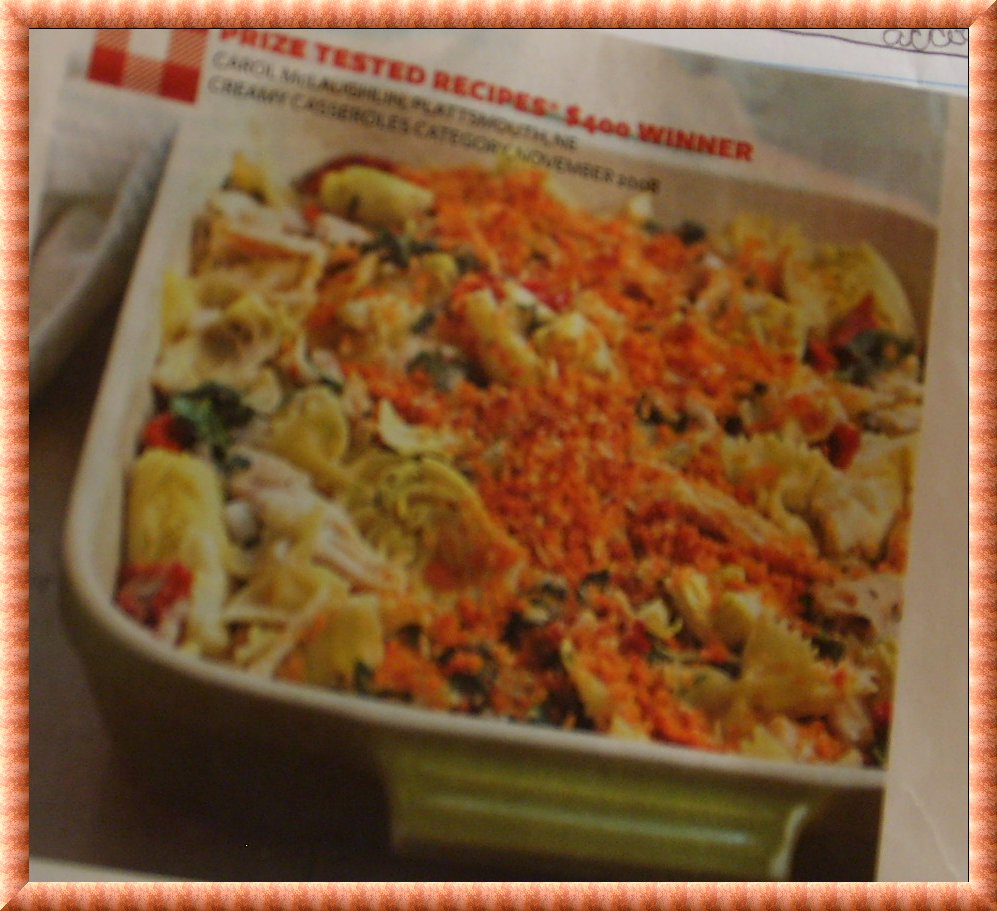 Cloth Diapers
We use cloth diapers on our babies . NOT that i'm a cloth diaper fanatic , I don't use them on long trips and most of the time I use a disposable for over night . We have found it to be a tremendous money saver a bag or Huggies now runs about $19.00 , so the savings really adds up . I use a variety of cloth diapers between Chinese prefolds I bought at wal- mart ( which are some of my favorite) to ones I have made myself at home using a simple sewing recipe . You can find lots of great web sites to buy different hand made diapers and that is fine if you have the funds to make such a large purchase however if you don't....... need not worry, a pack of 12 prefod can be picked up at wal- mart for as low as $12.99 I personally have about 45 diapers and that is far more than you will need I rarely run out and only wash them about every 3 days I use cheap plastic diaper covers also found right there at wal-mart . I have found web sites that teach you how to sew your own prefold/ prefited , diaper covers, and It is a simple easy sewing project even for a beginner. The results are that We have far less diapers in the trash and far less burden on our pocket books. Here are some pictures of some simple prefited diapers that I have sewn .

Our baby in a prefold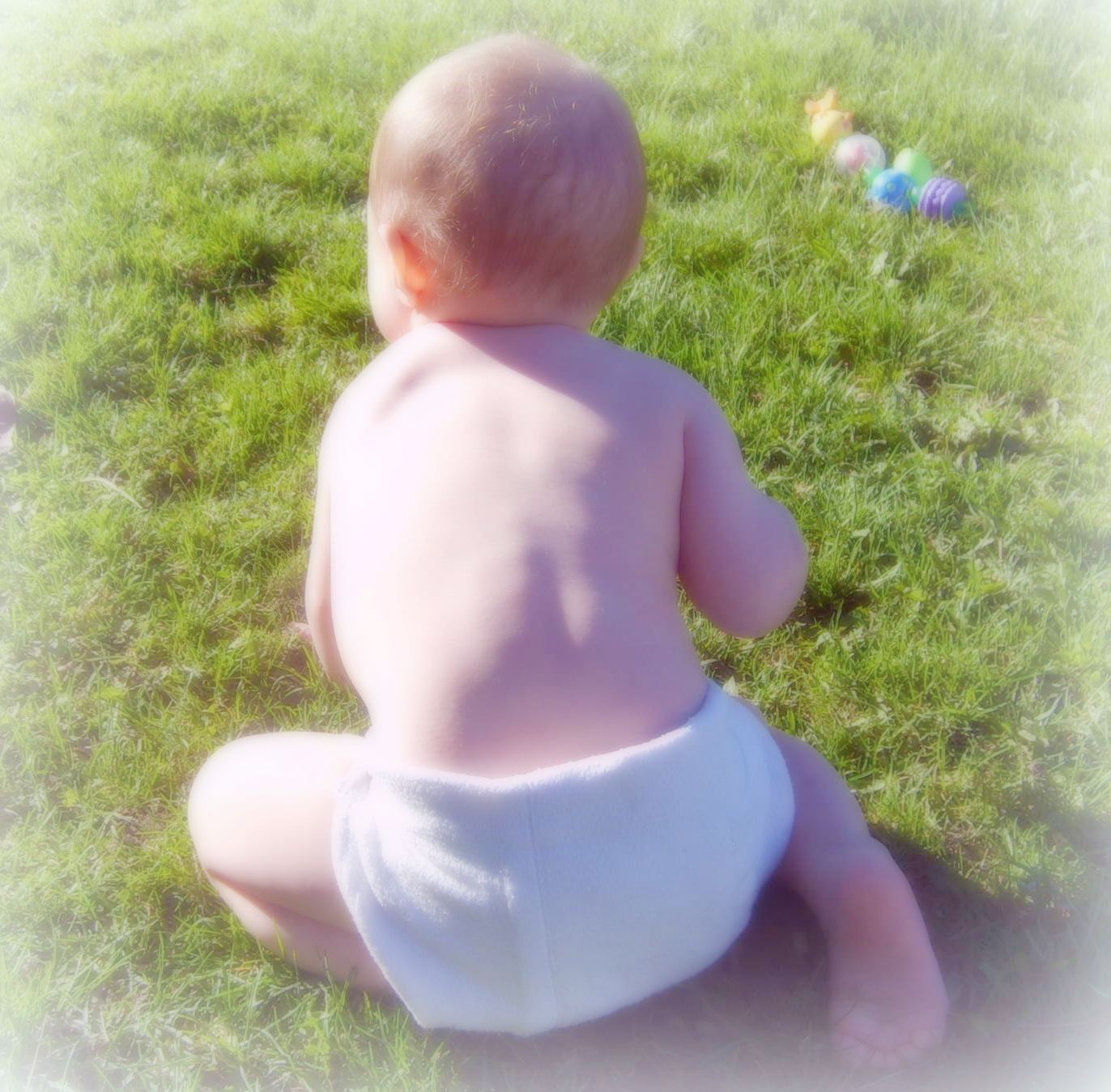 ---
---
---
---
---
Phone 619-980-8922
Email